NAMRIA Administrator, Usec. Peter N. Tiangco led the agency's top officials and employees in the kick-off ceremony for the Manila Bay Rehabilitation Project (MBRP) held on 27 January 2019. Aside from NAMRIA Administrator Tiangco, other NAMRIA officials present were Deputy Administrator Jose C. Cabanayan, Jr.; Hydrography Branch Director, Commodore Jacinto M. Cablayan; Mapping and Geodesy Branch Assistant Director Ofelia T. Castro; and Chief of Staff Rowena E. Bongalos. NAMRIA is giving support to the project dubbed the "Battle for Manila Bay" and involves cleaning up, rehabilitating, and preserving the bay.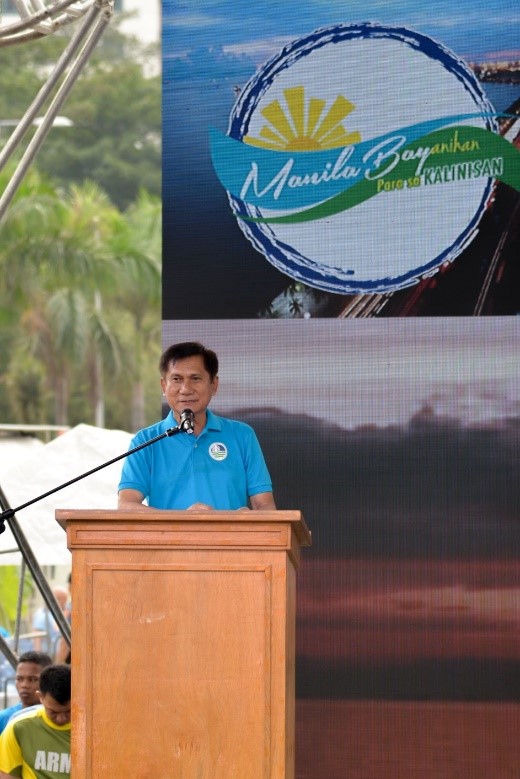 DENR Secretary Roy A. Cimatu addresses those
who attended the MBRP launching.
DENR Secretary Roy A. Cimatu graced the event and in his speech, he stressed that saving and protecting the environment is not just the responsibility of the government but of every individual whether Filipino or foreigner. He described the cleaning-up activity as having long been neglected and said that "what we failed to clean up in the past, should be dealt with accordingly today" and "that we will sustain in the future."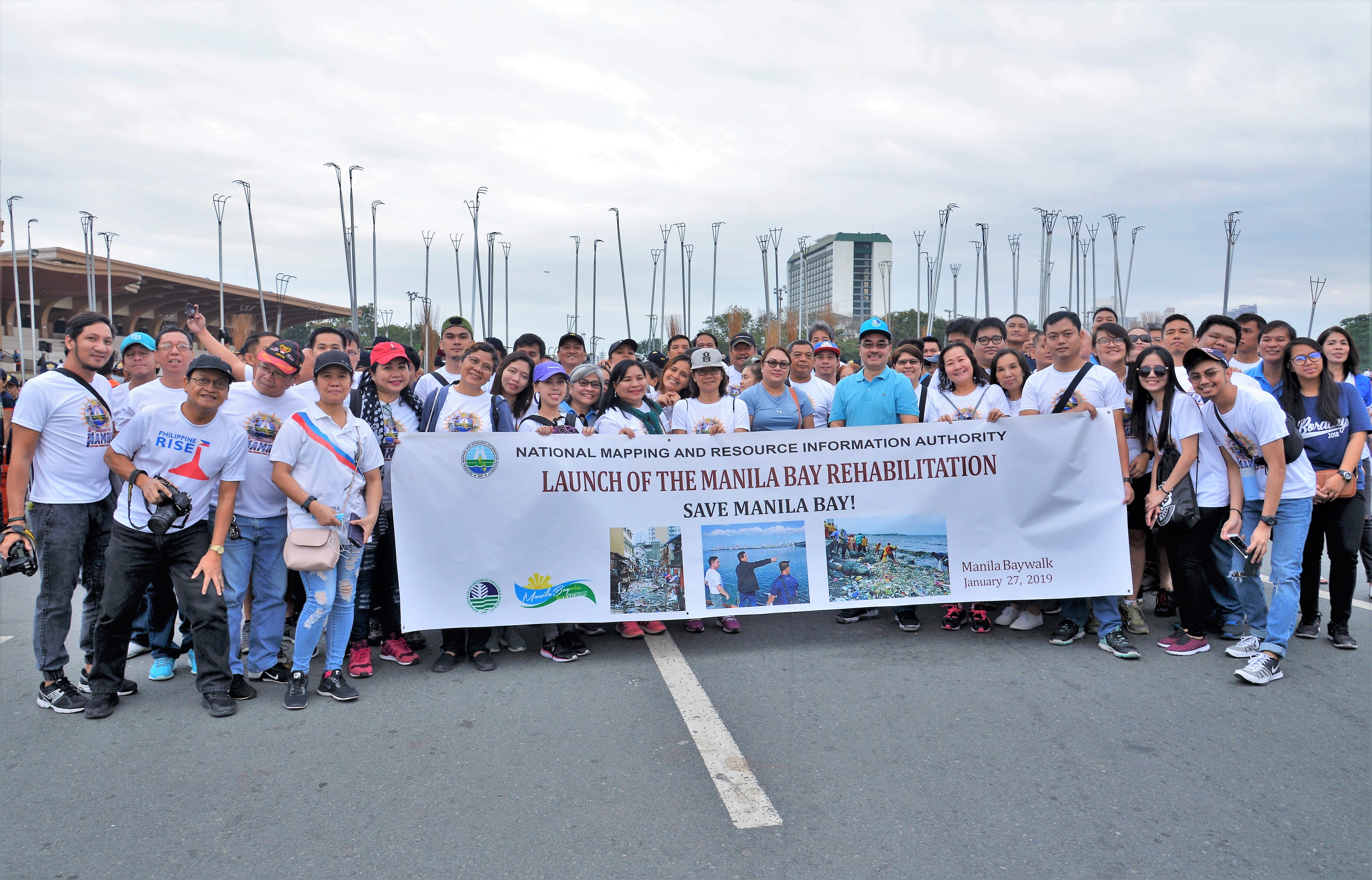 NAMRIA Administrator Tiangco (wearing blue cap and shirt)
leads NAMRIA delegates in the MBRP kickoff ceremony.
Simultaneous clean-up activities were also held in the cities of Navotas and Las Piñas and the provinces of Bataan, Bulacan, Cavite, and Pampanga, which have estuaries that flow into Manila Bay. The program for the kick-off ceremony started with the delegates marching from the Quirino Grandstand to the Baywalk area.
NAMRIA delegates chant "Save Manila Bay" during
the march along Roxas Bolulevard.
The MBRP plan was set after the results of a water sampling done in the area showed that the bay's average fecal coliform level was at 330 million most probable number (mpn), which is 3.3 million times above the standard 100 mpn that is ideal for swimming. President Rodrigo Roa Duterte warned establishments along the bay to comply with environment regulations or face closure. The Philippine government is eyeing the use of the revenue from the road user's tax to fund the MBRP. The DENR will be needing around PhP47 billion to clean up Manila Bay.
Readers can email newscoop@namria.gov.ph or fax letters to +63-2 884-2855 for their
comments and suggestions.