Thirty NAMRIA officials and employees participated in the training course on Auditing of Quality Management System (QMS) held at the Waling-Waling 1 and 2 Function Rooms, Taal Vista Hotel, Tagaytay City on 16-18 April 2018. The training was conducted by Mr. Antonio P. Santos of Advocacy and Institutional Development Office of the Development Academy of the Philippines (AIDO-DAP).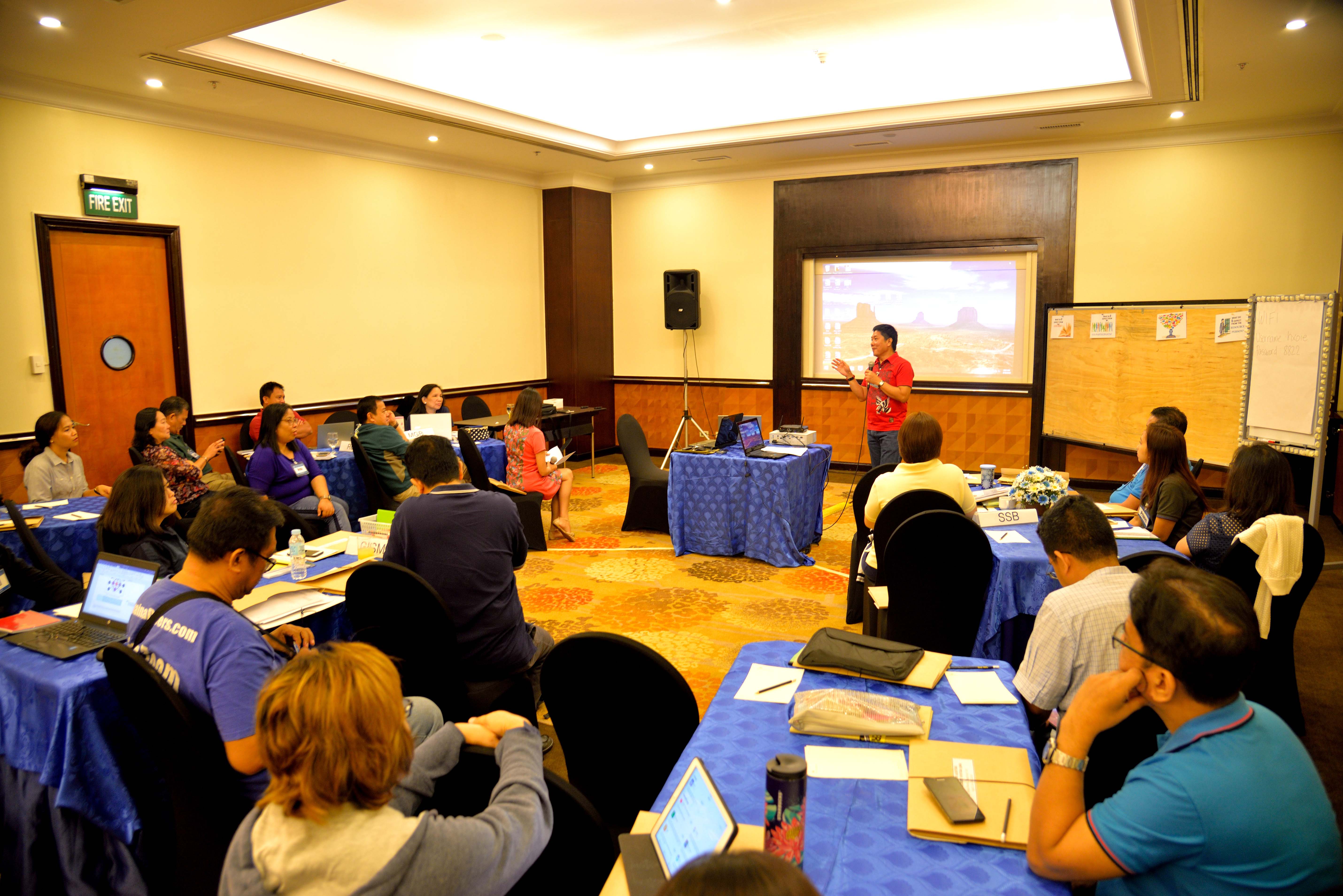 GISMB Dir. and QMR Fabic delivers his message to the participants.
The three-day course enabled participants to understand the structure and interpretation of the requirements of the ISO 9001:2015 in the context of an internal auditor and the objective evidence needed to comply with QMS requirements. Specifically, it equipped participants with the knowledge on planning and conducting audits through "process approach" and "risk-based thinking" and managing valid, factual and value-adding audit reports and findings. The course utilized discussions, exercises, and workshops to guide and enhance the auditing skills of the participants. To further facilitate learning, the participants were divided into the following five groups with their respective names, namely: Group 1 - Alaskador, Group 2 - Team Dos, Group 3 - United NAMRIA, Group 4 - Team Four, and Group 5 - Team Five.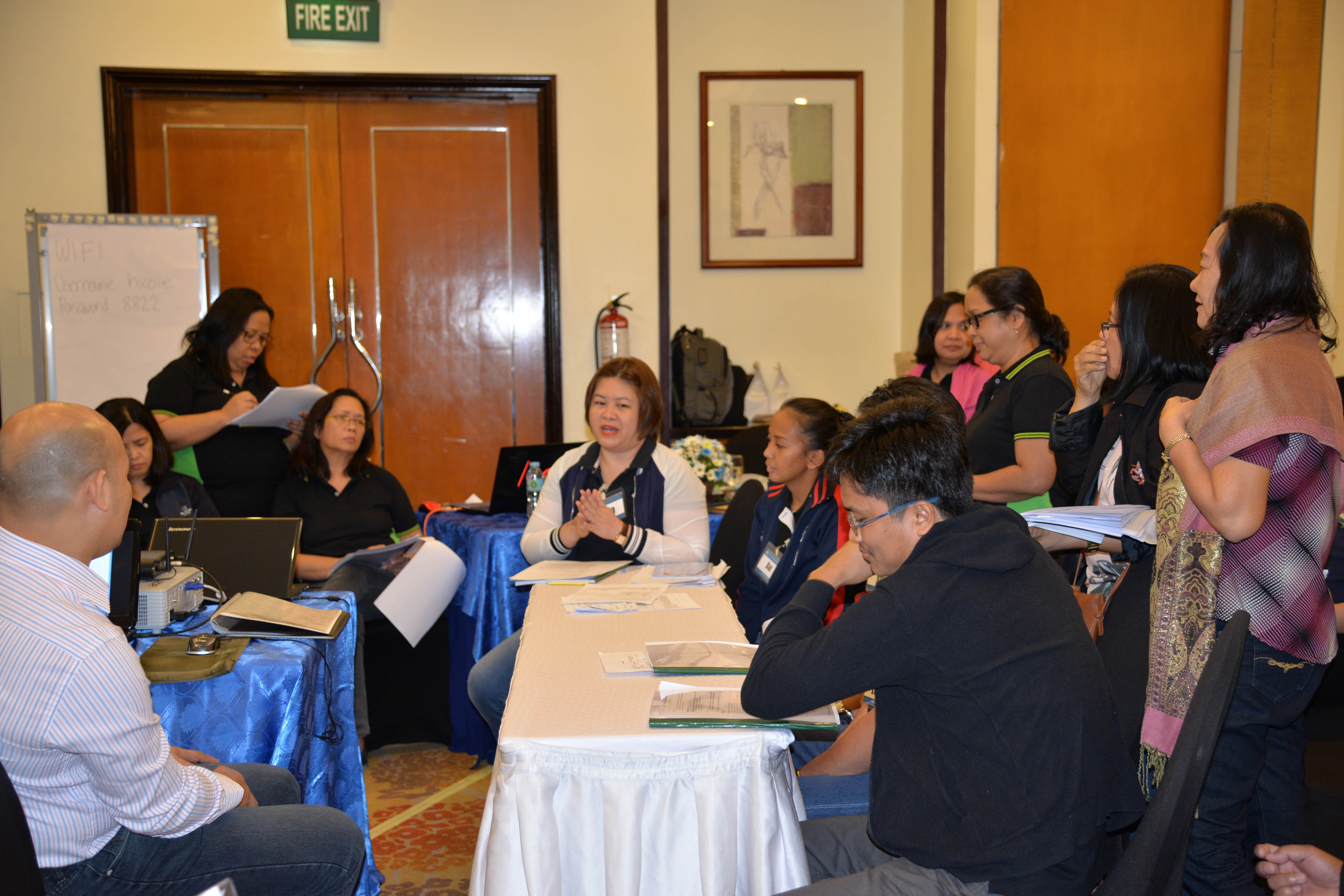 Participants do role-playing on audit findings.
The training course covered the following topics: (1) understanding the requirements, (2) audit planning, (3) audit preparation, (4) audit execution, (5) audit reporting, and (6) audit follow-up.
In her opening and closing remarks, Mapping and Geodesy Branch (MGB) Assistant Director and Internal Quality Audit (IQA) Team Leader Ofelia T. Castro commended everyone for their active participation, and thanked the resource speaker and the training facilitators for their support and cooperation.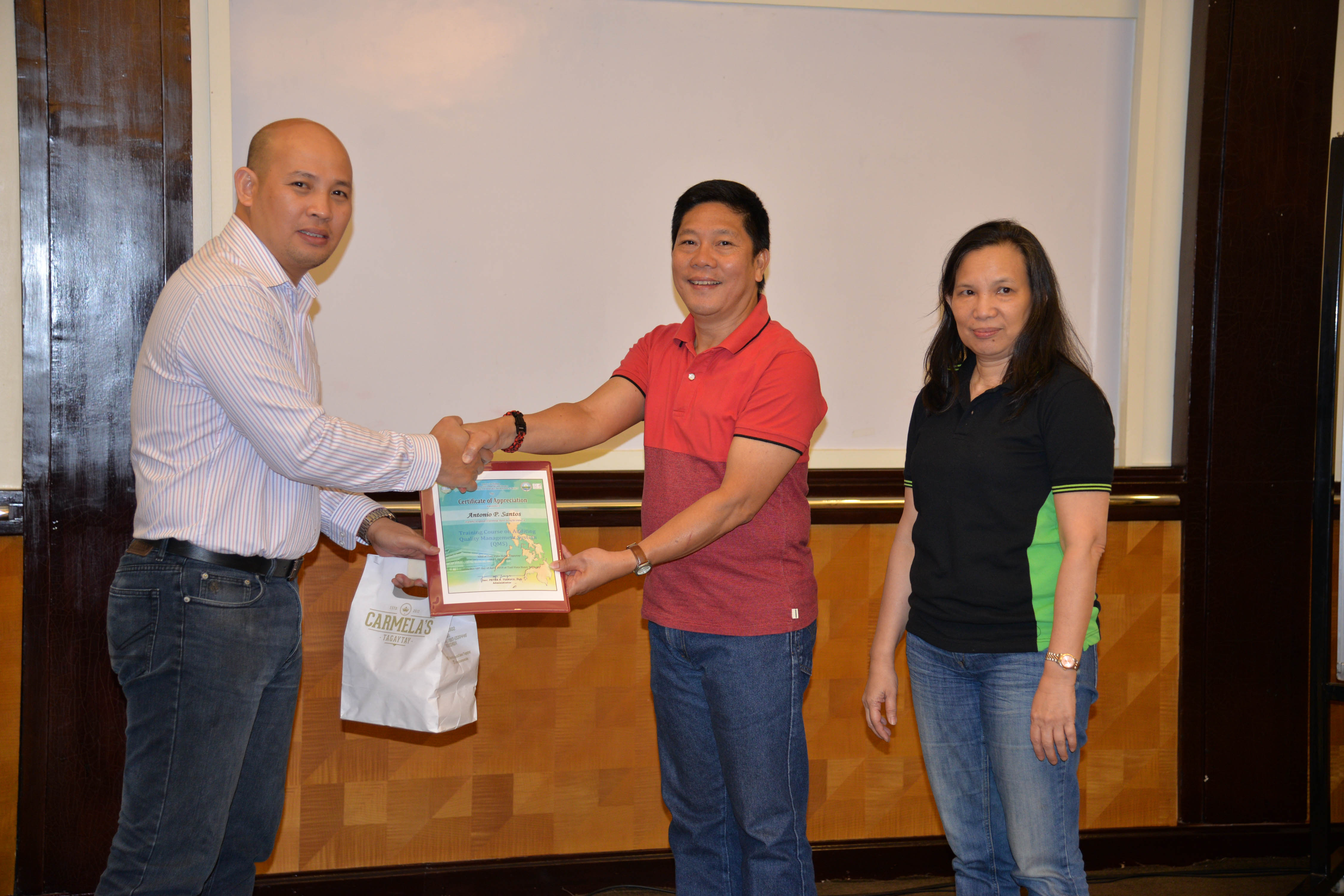 GISMB Dir. and QMR Fabic, together with MGB Adir. and IQA Team Leader Castro, awards the certificate of appreciation to Mr. Santos.
Meanwhile, special awards were also given to the following: Director and Quality Management Representative John Santiago F. Fabic (Geospatial Information System Management Branch [GISMB]) for Flash (the fastest pre-test submission); Officer in Charge (OIC) Assistant Director Benjamin P. Balais (Resource Data Analysis Branch [RDAB]), Division Chief Joselito T. Reasol (Geospatial Database Management-GISMB) and Mr. Alvin F. Laurio (Geospatial Information Services Division-GISMB), OIC Marita R. Sarmiento (Policy and Planning Division-Support Services Branch [SSB]) and Ms. Princes R. Rosette (Financial and Management Division-SSB), and Mr. Roger de Luna (Photogrammetry Division-MGB) for Sunflower (early bird); OIC Arlene B. Brillantes (Geospatial Systems Development Division-GISMB) for Pre-test (Quiz topnotcher 42/50); United NAMRIA for Best Audit Analyzer; Alaskador and Team Dos for Best Supporting Team; Division Chief Beata D. Batadlan (Land Classification Division-RDAB) for Eye Witness; Mr. Lorenzo W. Fernandez (SSB) for Best Actor Auditor; Ltsg. Lorena Jasmin D. Lerio (Survey Support Division-Hydrography Branch) for Best Actress Auditor; and Resource Speaker Antonio P. Santos for Best Resource Speaker (Hall of Famer).

Participants pose for group photo.
The training was facilitated by Ms. Natasha Michelle V. Abaya of DAP and SSB's Ms. Florence M. Acle, Ms. Nessil Marie B. Gonzalvo, Ms. Janice A. Malapitan, Ms. Eunice Nicole M. Zapanta, and Mr. Rommel D. Villaber.
Readers can email newscoop@namria.gov.ph or fax letters to +63-2 884-2855 for their
comments and suggestions.