NAMRIA Deputy Administrator for the Hydrography Branch and Mapping and Geodesy Branch, Jose Cabanayan Jr., together with selected technical personnel served as resource speakers for the Orientation-Workshop on the DENR Control Map held at the BSA Twin Towers, Ortigas Ave. Mandaluyong City last February 8-10, 2018.
The presenters from NAMRIA were Engr. Charisma Victoria D. Cayapan for "Philippines Geodetic Reference Systems," Engr. Leo Grafil for "interferometric synthetic aperture radar (IFSAR) and very high resolution (VHR) data," Land Classification Division (LCD) Chief, For. Beata Batadlan for "Available ENR data for DENR Control Map," Engr. Rosalyn Sontillanosa for "Datums and Coordinates," and Mr. Aljerico Alcala "Introduction to Geographic Information System (GIS)." On the other hand, DA Cabanayan Jr. and Engr. Nicandro Parayno, Chief of Photogrammetry Division (PD), answered queries during the open forum.
The objective of the orientation-workshop was to promote common understanding on the development and use of the DENR Control Map among the DENR officials and employees who participated in the program. It also aimed to orient the participants on the procedure of developing the DENR Control Map and the conversion of existing spatial database into the standard base map, leading to the formulation of an action plan to ensure its successful development and implementation.
DENR Assistant Secretary for Financial Management and Information Systems, Bresilda M. Gervacio mentioned that most ENR datasets came from different sources. A standard procedure and a common base map for all DENR officials and employees were identified as solutions in addressing problems in conversion and analysis of existing spatial datasets. Updates on the Basic and Advanced GIS Training Programs to be conducted by NAMRIA was also presented by Ms. Lolita Presbitero, Chief of DENR's Statistics and Data Resource Management Division.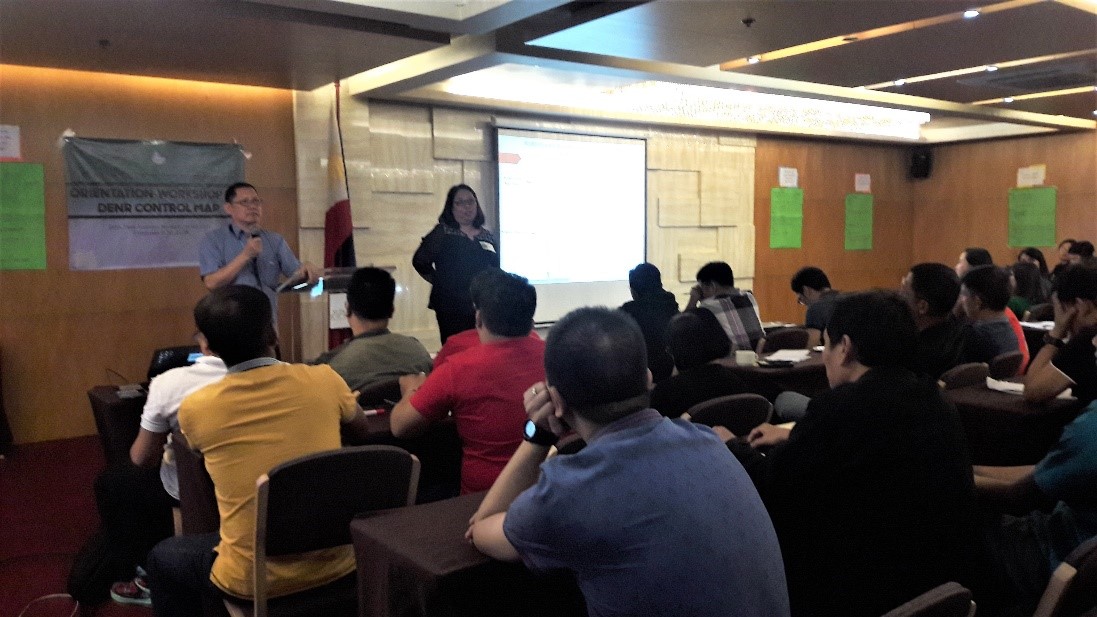 DA Cabanayan Jr. answering some questions from the participants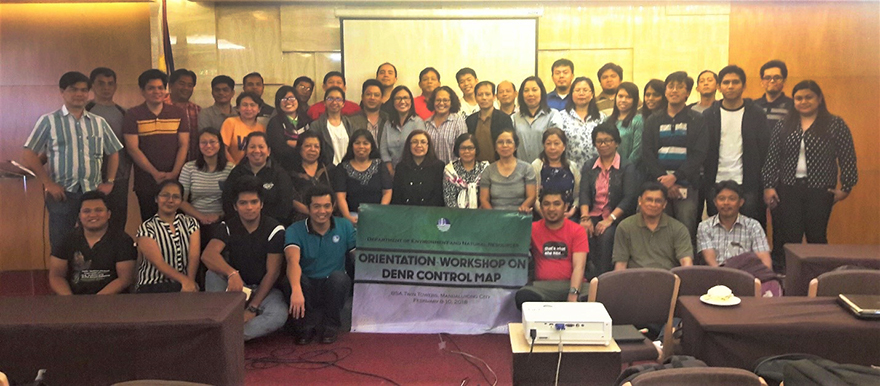 The participants of the Orientation-Workshop on DENR Control Map
Readers can email newscoop@namria.gov.ph or fax letters to +63-2 884-2855 for their
comments and suggestions.